Planning a break to escape the winter cold? If you're heading off for a long weekend or a couple of weeks away to chase the sun, there's no need to put your beauty and wellness on hold. See our top Beauty Essentials to stay beautiful and glow on the go!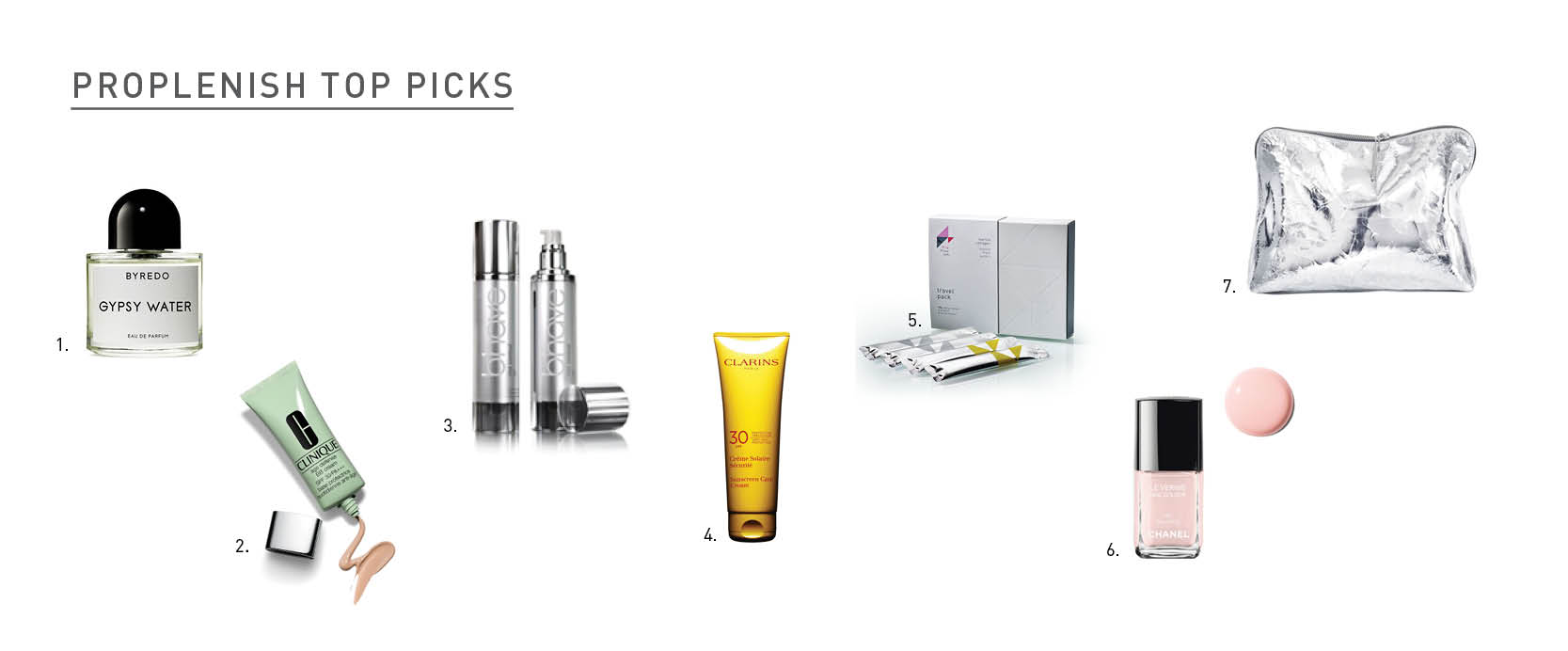 Holiday Aroma

Purchase a new fragrance you have never used before and wear it whilst away. Scent and memory are tightly entwined; you will be surprised how many great holiday memories come flooding back when you wear the scent again a few months later at home. We love Byredo Gypsy Water EDP 50ml a vibrant burst of Bergamot, lemon, pepper and juniper berries. (1. shop here)
Beauty Balm convenience

Pack BB Cream, a lighter alternative to heavy foundation, which hydrates skin as it protects and corrects. Be sure to choose a formula with good SPF protection to avoid harmful damage from the sun's ultraviolet (UV) rays, which can cause your skin to age prematurely. We love Clinique Age Defense BB Cream Broad Spectrum SPF 30 (2. shop here)
Beat the frizz

A holiday in a warm destination doesn't mean that your 80's perm has to come back to life. Humidity affects almost all hair types and styles but it is possible to maintain smooth hair during the hot weather. We are packing Bhave riot control oil 100ml – Enriched with certified organic argan oil and antioxidants, it fights frizz effortlessly and increases manageability to all hair types. (3. shop here)
Sun savvy

Scientific studies have shown that a quality sunscreen is the ultimate anti-ageing cream. According to skincancer.org more than 90 percent of the visible skin changes associated with ageing are caused by the sun's ultraviolet (UV) rays. Enough said. We have packed Clarins Sunscreen Care Cream SPF 30 Body 125ml a lightweight, non-oily cream that provides deep-down, reinforced sun protection. (4. shop here)
ProPlenish Travel pack

Enjoy younger-looking skin, healthy hair and strong nails wherever you are in the world. From take-off to arrival and beyond, our reusable ProPlenish travel pack contains ten sachets and is the ideal travel companion to look after your beauty from within. Simply add to your water or food to maintain the health of your skin, hair, nails and muscles during long or short journeys.
Polished perfection
Maintain your mani with a quality polish, we are crushing over Chanel Le Vernis #167 Ballerina. A versatile colour you can wear from the poolside cabana to the bar at night. (6. shop here)
Pouch Beauty

Pack all of your travel beauty essentials in this limited edition 31 Phillip Lim 10 Year anniversary minute cosmetic zip. We think this baby is so beautiful is could almost double as an evening clutch! (7. shop here)