A Conscious Collection is a luxury lifestyle publication founded by certified wellness coach and designer by trade, Brooke Meredith. It serves as a daily source of inspiration, influencing a positive, sustainable adoption of a modern wellness lifestyle. This month they wrote about ProPlenish and the magic of Marine Collagen.
Marine Collagen: If you're not already familiar with it, this is why you should be
The magic of the ocean plays a special role in many lives – peace, tranquillity & the sheer beauty almost too perfect a remedy for our mind, body & soul. So, it only made sense when ProPlenish (made up of amino acids derived from the ocean) became an A-Lister as a woman's best friend & natural beauty enhancer. – Collagen.
Convenience is key with the two-in-one Marine Collagen+ sachet, ensuring beauty rejuvenation & health restoration takes priority while fitting so simply into any jam-packed schedule. This means your time's better spent prepping for your busy working week, squeezing in that extra Pilates class or catching up with your girlfriends over a much-needed cuppa.
'The integrity of a woman's connective tissue through the consumption of marine collagen exemplifies why a holistic approach to health & beauty should take preference over cosmetic intervention' says accredited naturopath & co-founder of Health Synergy, Jennifer Murrant.
While levels of collagen naturally deplete as women age, Jennifer stresses the importance of a 'focus on our overall wellbeing, which begins by supporting our systems from within,' – a strong belief ProPlenish also advocates.
The flavourless mix-in credits its natural ingredients – vitamin C & E, silica, biotin, zinc, matcha green tea & red marine algae to its successes. With replenishment, stimulation & prevention of further collagen breakdown among its benefits, the powdery godsend basically guarantees to be your new bestie.
With a strong stance on no added nasties, it boosts vitality in essential protein needed for function of muscles, bones & joints. Not only does this nifty little product add no interruption to your daily routine, it'll leave your skin fresh, plump & all-round delicious. As women, we all get a little preoccupied with our life but Marine Collagen+ makes sure you're always radiating, inside & out.
Collagen Boosting Berry Smoothie
Ingredients
1/2 banana
1/2 cup mixed frozen berries
1 cup almond milk
1 sachet of ProPlenish Marine Collagen +
1.2 tsp cinnamon
1 tbs Manuka honey.
Method: Blend all ingredients in a high speed blender. Enjoy.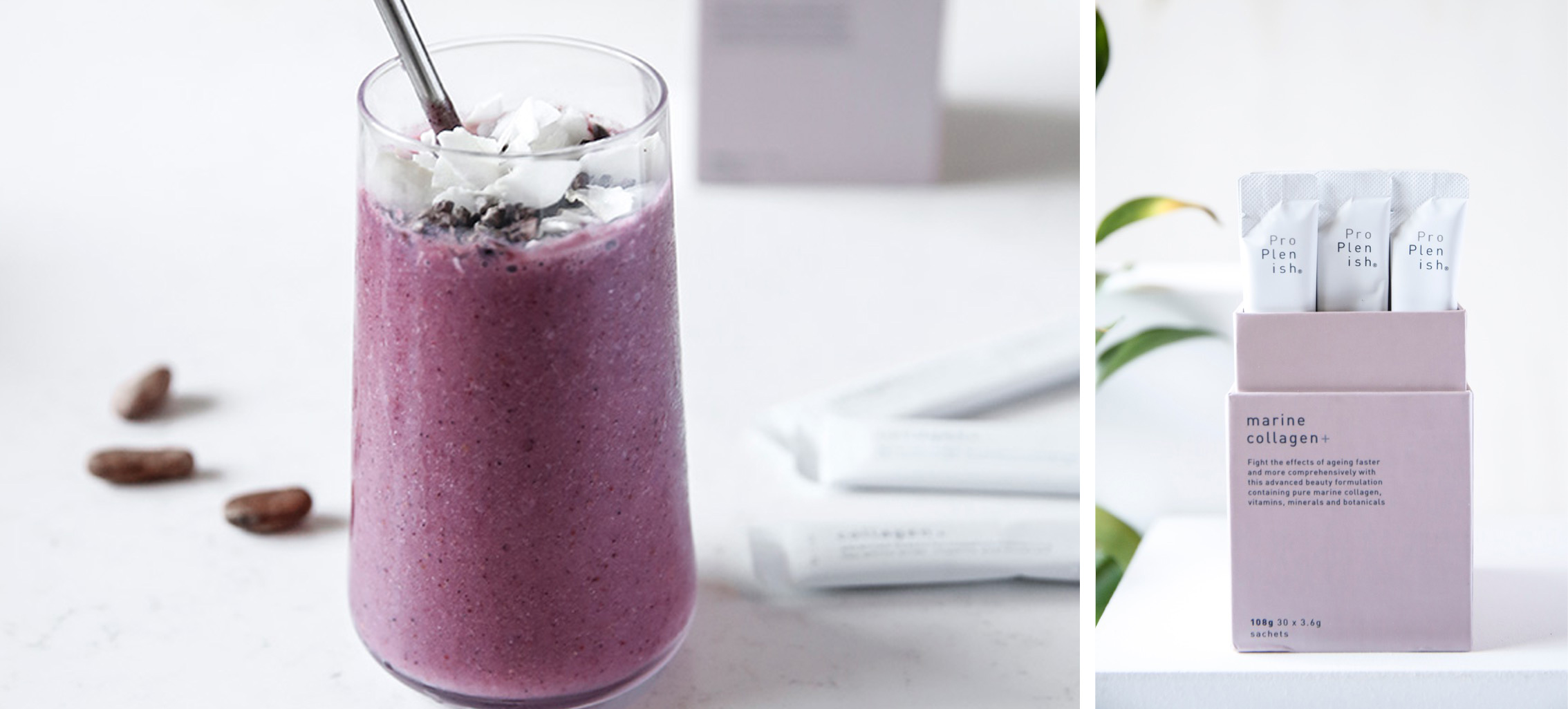 By Kaitlyn Smith – A Conscious Collection