Ageing (collagen breakdown) combined with external factors such as diet, nail polish and false nails, all contribute to weak, brittle and splitting nails.
Studies show that ProPlenish marine collagen delivers vital nutrients for the health and maintenance of beautiful nails. Helping to encourage growth and significantly improve strength.
Simply including ProPlenish marine collagen in your daily diet can result in a significant improvement in the health of your nails with up to 86% of people seeing fewer defects and faster growth.
" Prior to taking the ProPlenish my nails were always splitting at the sides and were generally very weak. After one sachet every morning for 30 days, my nails are much stronger and thicker – a really noticeable difference in a short amount of time." – Cheryl Beasley
With strong healthy nails you can enjoy the very best manicures. Here are our tips for a DIY manicure and some of our top Spring mani and polish picks!
DIY Manicure
Supplies: Nail Clippers, Cuticle Trimmers and oil (optional), Cotton pads, Polish Remover, Nail File, Hand scrub and hand cream, Rubbing alcohol, Base Coat, Polish and Top Coat
Step 1. Prep, file and clean
Trim your nails to your desired length with nail clippers. Gently trim cuticles if required. Clean nails with polish remover to ensure an even surface for the new polish. Choose your desired nail shape; rounded, square or a combo, square with rounded edges. Shape nails evenly with the nail file.
Step 2. Exfoliate and moisturise
Gently rub your hands with hand (or body) scrub to remove any dead skin. Liberally apply a rich hand cream to smooth and hydrate, rub extra into dry knuckles and rough fingertips.
Step 3. Best base
Apply rubbing alcohol to a cotton pad and clean nails to remove any residue from the moisturiser. Apply a thin layer of base coat to nails.
Step 4. Pop of colour
Apply two coats of polish to nails. Allow the first coat to dry before applying the second for a flawless finish.
Step 5. Top it off
Once nails are dry apply top coat to seal colour and give your nails the finish your desire – either high shine or matte, depending on your preference. Apply cuticle oil for moisture and protection.
Spring top mani and polish picks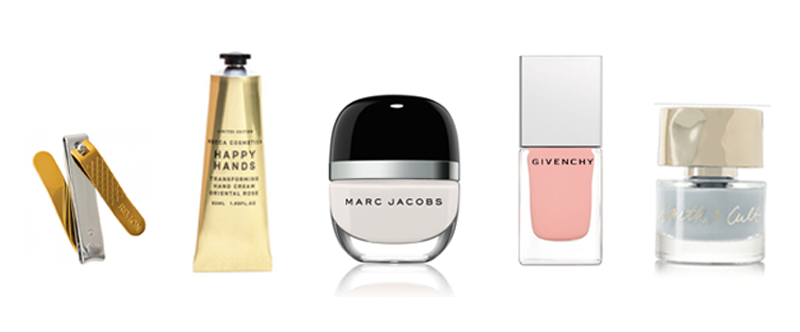 1.Revlon Gold Series Dual Ended Nail Clippers view
2.Mecca Cosmetica Hand Cream – Limited edition view
3.Marc Jacobs Hi-Shine Lacquer in White Snow view
4.Givenchy Le Vernis Nail Polish in Rose Illusion view
5.Smith & Cult Nail Polish in Subnormal view