Crease Free Hydrated Skin
Silk is a non-absorbent fabric that won't deplete your skins moisture levels or absorb valuable face serums and night creams. The natural properties of silk put less pressure on your skin whilst you sleep helping to minimise crease lines, friction and rubbing – providing less chance of creases becoming permanent wrinkles.
Smooth Hair
Resting your head on a cotton pillowcase can agitate and roughen up the hair cuticle whilst depleting your hair of vital moisture. Silk allows your hair to glide with ease whilst you sleep, helping to reduce unwanted hair breakage, split ends and damage caused by friction. The smooth surface of silk also helps your blow dry last longer, so you no longer need to tackle dreaded bed-head.
Healthy Sleep
Silk is a natural fiber with beneficial temperature regulating qualities. The breathable fabric helps to minimise sweat, reduce breakouts and irritation to the skin. Naturally hypoallergenic, silk is resistant to dust mites and other allergens making it beneficial for both your beauty health and wellbeing.
Hand washing your Anti-ageing Beauty Slipcase is the best way to take care of it to ensure longevity.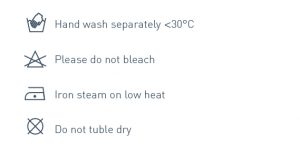 If time poor between hand washes: Machine wash in lukewarm water, turn inside out and place inside a wash bag. Please note this washing method could lessen the lifespan of your slipcase.